The Practice was established in 1881 and operated from Hazlewood, Beaconsfield Street, Haslingden, moving to the present Health Centre in 1985.
Dr Rishton joined the partnership of Ramsden, Marsden and Pettigrew in 1983. Dr Towers replaced Dr Marsden in 1986 when he retired. Dr Sellens replaced Dr Ramsden following his retirement in 1989. Dr Mackenzie joined the Partnership in 1991. Dr Quinn joined the Practice in 1996. Dr Rishton retired in August 2011. In 2010 Dr Sellens took up a post in musculoskletal medicine and was replaced by Dr Zaheer Ibrahim.
Dr Sellens retired in 2013 and Dr Towers retired in 2013.
In 2012/2013 the health centre was extensively refurbished making it more fit for purpose.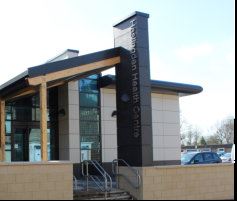 The Practice Today
We are situated in a refurbished 1980's style Health Centre offering a comprehensive range of services. We are fully equipped with facilities for the disabled including disabled parking at the rear of the building, access ramps, double doors, disabled toilet and lift.
The Practice is under contract with NHS East Lancashire.